Stainless Steel Markers
Nidagravel Stainless Steel Markers for Car Parks
Designed to be used with Nidagravel 129,130 & 140 gravel grids. Our heavy-duty steel markers are ideal for marking out car parking spaces in both private and commercial gravel grid car parks.
Stainless steel markers for the demarcation of car parking spaces. Our high-quality stainless steel markers have been designed to be simple to install and very durable. Our steel parking bay markers are designed to be used with our highest specification gravel grid, Nidagravel 140, which is suitable to use for surfacing commercial car parking bays where a stable and free-draining gravel surface is required for aesthetic reasons and/or to comply with Sustainable Urban Drainage (SuDS) requirements.

Nidagravel stainless steel markers can also be used successfully with Nidagravel 129 and Nidagravel 130, our standard gravel stabilisation grid for residential or private driveways where customers would like to mark out a number of car parking spaces.

Nidagravel square markers are made from Grade 304 stainless steel for the faceplate with two mild steel pins welded to the underside. Our car parking markers are designed to be fitted after the Nidagravel gravel stabilisation grids have been installed and filled with gravel, so the parking bay markers can either be installed straight away on a new project or simply retrofitted at a later date. In each case, the positioning of the markers is decided upon and then the markers are simply driven through the gravel grids and into the sub-base using a rubber-faced mallet to secure them in place. The markers are designed to be installed into a granular sub-base. In tough ground conditions, mark the pin positions on the top of the sub-base and pre-drill with a long 8mm masonry bit, then tap marker into position.

FREQUENTLY ASKED QUESTIONS:
Click here to see answers to questions about Nidagravel

CASE STUDIES
View some great projects using our gravel grids

HOW WE DELIVER:
Click here to see how your Nidagravel order will be delivered
TECHNICAL SPECIFICATIONS:
NIDAGRAVEL STAINLESS STEEL MARKERS
Marker plate dimensions: 100mm x 100mm x 10mm (L x W x H)
Marker plate thickness: 10mm (approx)
Stainless steel thickness: 2mm (approx)
Fixing pins length: 200mm (approx)
Marker plate material: Stainless steel
Fixing pin material: Mild steel
No. of fixing pins: 2 per marker
Colour: Silver / Stainless steel
Code:

- NIDASSM

Stock:

- IN STOCK (Always in stock & ready to deliver)

Brand:

- Nidaplast - more
Other Items You May Be Interested In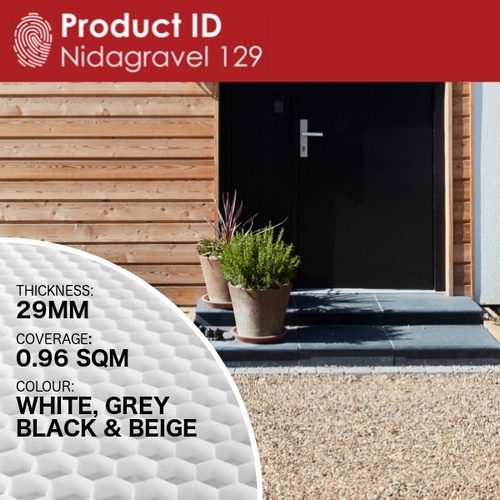 £10.80
Gravel Stabilisation Grids for Paths & Small Driveways
Nidagravel 129 is a small format gravel grid designed for stabilising gravel surfaces including garden paths, patios, seating areas, and small driveways.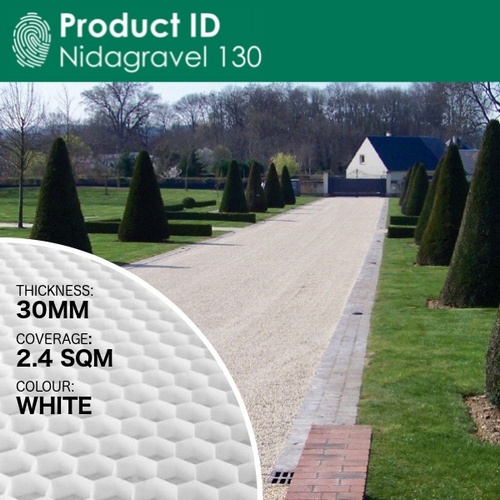 £27.00
Gravel Stabilisation Grids for Driveways
Nidagravel 130 honeycomb gravel grids offer the best solution for stabilising medium to large gravel paths, patios, and driveways. We recommend this gravel grid for stabilising gravel driveways including sloping driveways.

£31.18
Gravel Stabilisation Grids for Driveways & Car Parks
Nidagravel 140 gravel grids are large-format honeycomb gravel stabilisers for stabilising gravel driveways, car parks, and public spaces. Quick to install, this robust gravel grid is suitable for stabilising heavy use gravel surfaces.